WIN a Vu+ Wireless Primary Data-Logging Pack
Publication Date:
February 20th 2017
---
WIN a Vu+ Wireless Primary Data-Logging Pack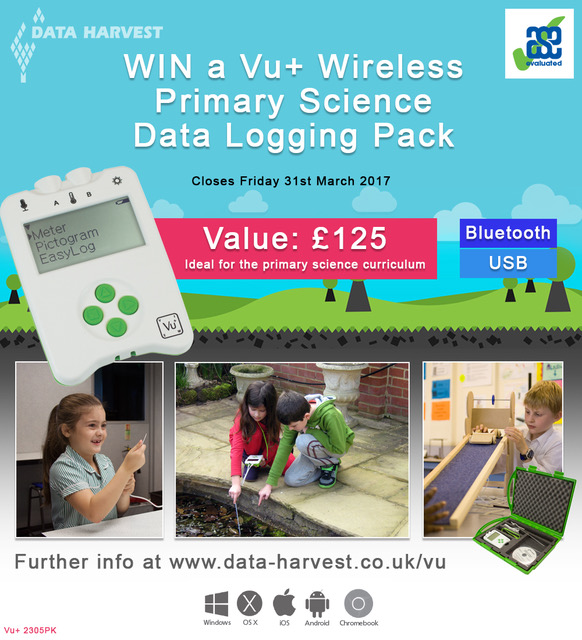 Based in Leighton Buzzard, Bedfordshire, Data Harvest has been developing and supplying leading science equipment for schools for over 30 years; the latest edition to the primary range of data loggers is Vu+, now with wireless bluetooth connectivity to iPad & Android tablets. Vu+ is a low cost data logger that offers the perfect solution for working scientifically to capture data in and outside of the classroom.
The English National Curriculum states that pupils should 'work scientifically' by 'taking measurements, using a range of scientific equipment, with increasing accuracy and precision, taking repeat readings when appropriate, recording data and results of increasing complexity using scientific diagrams and labels, classification keys, tables, scatter graphs, bar and line graphs'.
Designed specifically for primary, Vu+ is the only solution you need to learn about the world around you in record time.
To be in with a chance of winning a Vu+ data logger, simply read the information above and answer the questions below.
Q1: How long have Data Harvest been developing and supplying educational products?
Q2: What is the latest primary data logger from Data Harvest?
Q3: How can you connect the data logger to iPads and Android tablets?
Q4: In the English National Curriculum what is a described method of recording data? A, B or C?
A: Working scientifically
B: Working individually
C: Working outside ?
Q5: Who is the Vu+ data logger specifically designed for?
Email your answers to: rebecca@ase.org.uk
Competition closes: Friday 31st March 2017
The winning entry will be notified via email after 31st March 2017.
---
Full Story:
Read the full news item here.
All News:
News Index